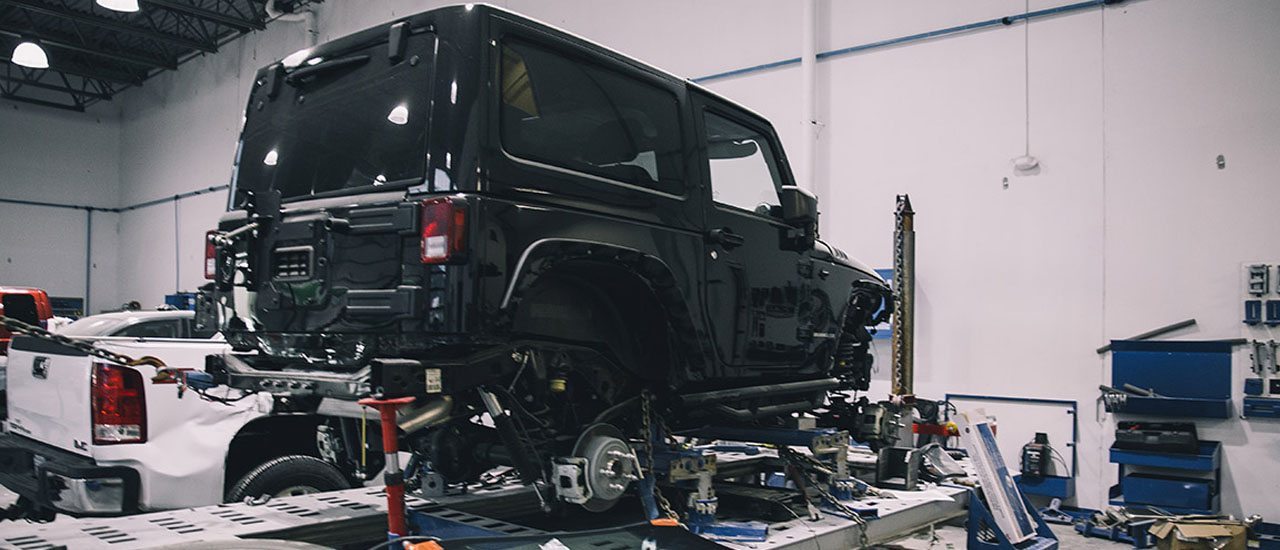 If your vehicle has been in a major accident, the first step is to straighten its frame or unibody. Many vehicles with collision histories have bent frames that have gone undetected or improperly repaired at a body shop. The vehicle may not drive straight, feel crooked or pull to one side or another. Some 'repaired' vehicle owners complain that their car "just doesn't feel right anymore". The reason is that many shops are not experts at frame or unibody straightening. A lack of experience or lack of the right equipment will produce a poor result for your vehicle. Sometimes repairs are done out of sequence which may result in improper straightening. Damaged parts may be replaced before the frame is straightened. This can make it impossible to return the frame to its original alignment. The replaced parts need to be removed, frame straightened and then the new parts re-installed.
In frame and unibody straightening, technician experience counts big time. Not only must technicians be provided top equipment and training, but only expertise gained over time can return a car to its original form. This avoids the "It just doesn't feel right anymore, it's not like it was before the accident" feeling. The right equipment, very-experienced personnel and dedication to provide perfect results is what a vehicle needs when it has a bent frame or unibody due to a collision.
Avenue Body Shop is an ICBC-accredited c.a.r. VALET shop repair centre in Abbotsford. Our experienced frame and unibody technicians continually undergo training and certification assessment. Our frame and unibody straightening system is well-maintained for safety and efficiency and we are constantly upgrading processes and upgrading skills. As a result, we guarantee our frame or unibody repairs and replacement parts for as long as you own your vehicle.
Proudly serving Abbotsford for more than 50 years, we continue to build a reputation that speaks to constantly exceeding our customer's expectations. Call on Avenue Body Shop to give your vehicle the part repair or replacement it deserves.