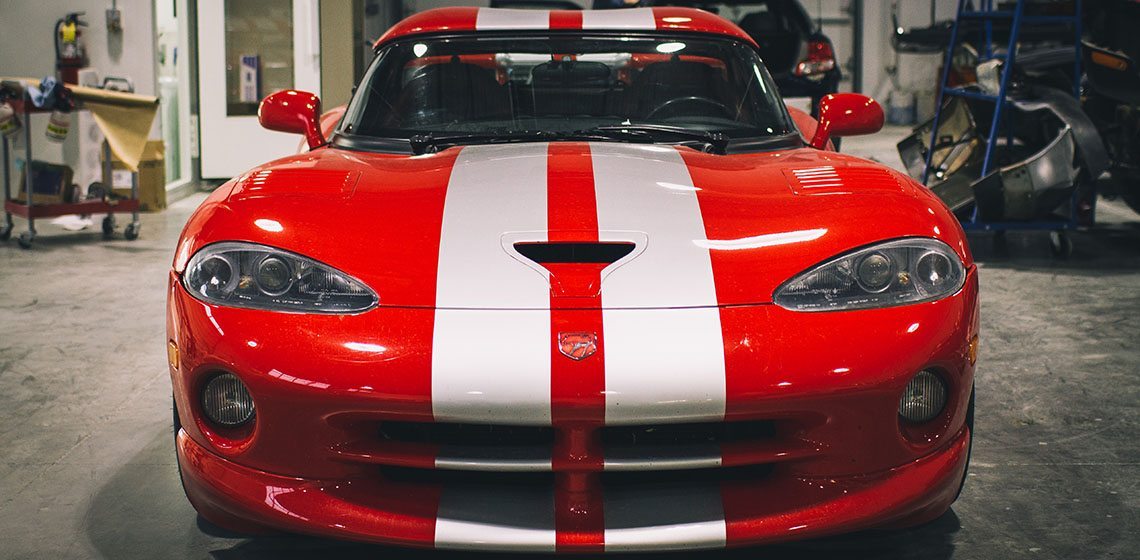 The vehicles we drive are often considered an extension of us. They can project emotions and traits such as; adventurous, bold, assertive, calm and confident. And the richness, gleam, and depth of the colour projects an image as much as the colour itself. A poor paint job on a great car looks oddly out-of-place and a great paint job on an average car can give it new respect among fellow travellers. Cruising the strip in a banana yellow '32 5-window Ford deuce-coupe (a la "American Graffiti") may be gone, but our love of driving a shiny, beautiful car is not going anywhere.
While automotive paint can make a positive or negative first impression, its primary function is as a physical barrier that protects your car's body from environmental effects such as sun, moisture and erosion. Avenue Body Shop is dedicated to providing our valued customers with the best auto paint applications available today. Whether you're vehicle needs new paint as a result of collision damage or your beloved, older vehicle simply needs a fresh paint job to look its best, we have the trained technicians, quality materials, state-of-the-art equipment and best-in-industry practices to ensure your vehicle will look like new.
As you can imagine, collision damage speeds up the process of weathering and if the paint isn't repaired correctly, it could take an entirely new paint job just to get it back the way it was. At Avenue Body Shop, we know every car has the potential to make a great first impression. By returning a smooth sheen to your paint's clear coat, the youthful brightness of the paint's original colour shines through. Our paint technicians are extremely well-trained in auto body painting techniques and are meticulous in practice.
We use a European paint system called Sikkens, which is well-known in the industry for being a top-of-the-line automotive painting system. We also use Colour-Match to optimize the overall look of your paint. These paint systems reflect Avenue Body Shop's dedication to innovation and our demand for highest-quality technology and materials. We insist our customers receive the best-of-the-best in everything from customer service to parts to paint.
Abbotsford Auto Body Painting
Avenue Body Shop is an ICBC-accredited c.a.r. VALET shop repair centre in Abbotsford. Our technicians continually undergo training and certification assessment. Our body shop is well-maintained for safety and efficiency and we constantly assess our paint processes and equipment for upgrading to the latest in auto paint technology. As a result, we guarantee our auto paint and repairs for as long as you own your vehicle.
Proudly serving Abbotsford for more than 50 years, we continue to build a reputation that speaks to constantly exceeding our customer's expectations. Call on Avenue Body Shop to give your vehicle the quality paint job it deserves.